Plans and structure for 2018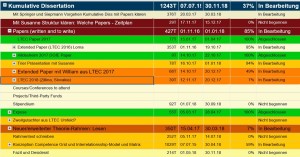 2017 was a great but also challenging year. Like I described in my last post I started a new job in Kassel and officially was accepted a phd-student in Marburg. Combining and structuring job and external phd is not easy

it took some time to get accustomed to a new routine, but I succeeded to place 2 new articles which will become part of the cumulative phd.
In 2018 I am now about to finish an extended version of my LTEC 2018 article and hopefully to finish my phd this summer. My year will start with 2 weeks of "holiday" which I will use to finish the structure and title and to plan the last steps in structuring my timetable. I will keep you updated, as soon as I can write more about it.
Happy NEW YEAR to all of you!